Hello 2021! We are so glad that you are here!
Here are 8 ideas for your Wellness Box this month! Pick one box you absolutely love or you can mix and match and items from these suggested boxes! One of the things we love most about Young Living is that you can always completely customize your Essential Rewards wellness box order.
And don't forget, every order of 100 PV+ will earn FREE shipping! Also, if you order a purchase of 50 PV+ through Essential Rewards, you'll earn an additional 10%-25% back in YL store credit, giving you even better pricing on your wellness, home and body care needs!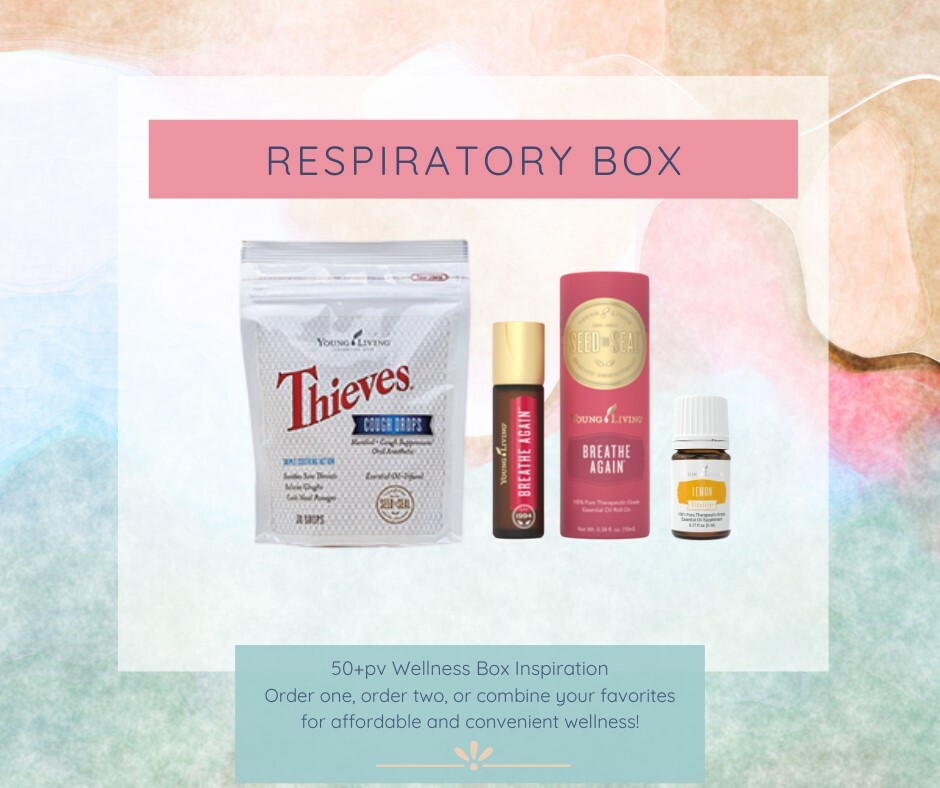 Respiratory Box
Going into 2021 we all have breathing... aka. respiratory support on our minds! Thieves Cough Drops are over-the-counter medicinal quality & are so effective. Breathe Again roll-on and Lemon Vitality are GREAT oils for assisting your body with easy breathing!
Thieves Cough Drops | item #5760 | $21.25
Breathe Again Roll-On | item #3528 | $27.50
Lemon Vitality Essential Oil | item #5625 | $6.50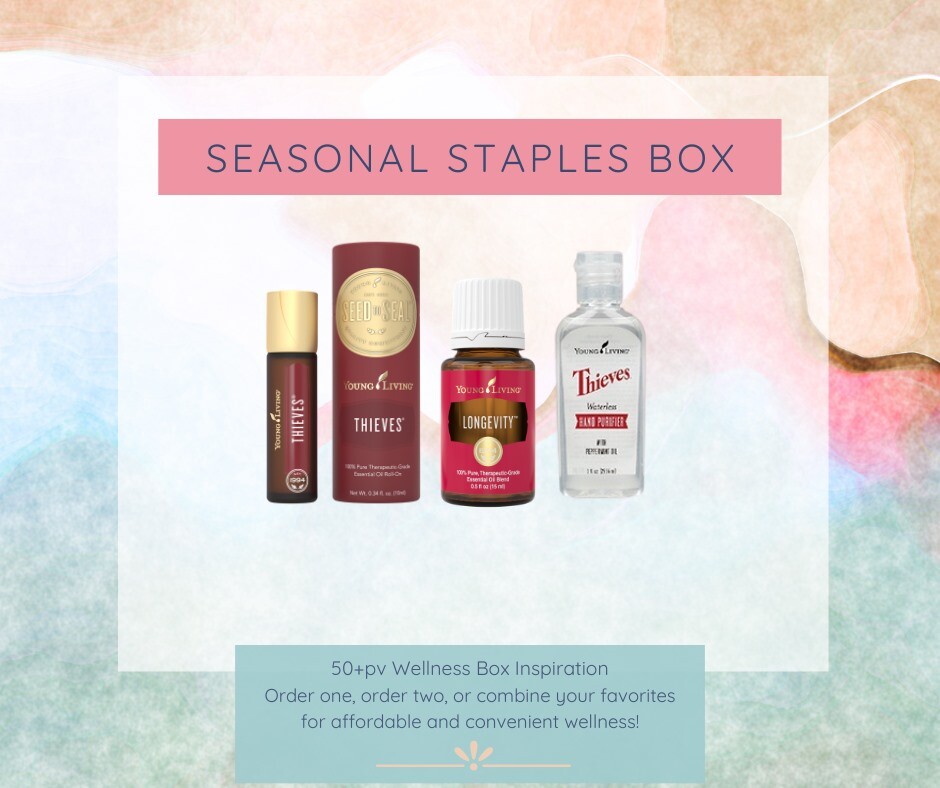 Seasonal Staples Box
Thieves Hand Sanitizer and Thieves Roll-On are must haves this time of year and perfect to keep in your bag for on the go use! Longevity is a blend of Thyme, Orange, Clove and Frankincense oils. It is a robust blend of immune-supporting oils and promotes healthy skin during the winter months!
Thieves Roll-On | item #24364 | $31.00
Longevity Essential Oil | item #3388 | $38.25
Thieves Hand Sanitizer | item #3621 | $5.25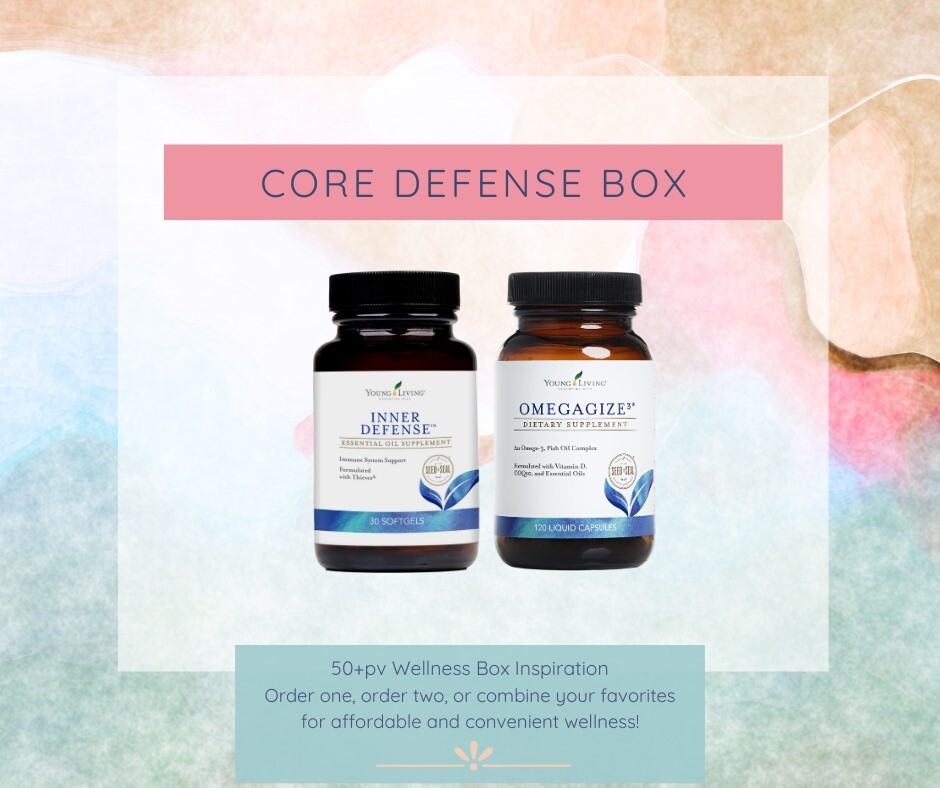 Core Defense Box
Inner Defense is a great supplement for supporting your immune and respiratory systems. OmegaGize is a core YL supplement for supporting brain health with added CoQ10. CoQ10 is a coenzyme that helps generate energy in our cells. As we age, CoQ10 levels begin to decline, making it necessary to supplement.
Inner Defense | item #3295 | $28.50
OmegaGize | item #3097 | $63.00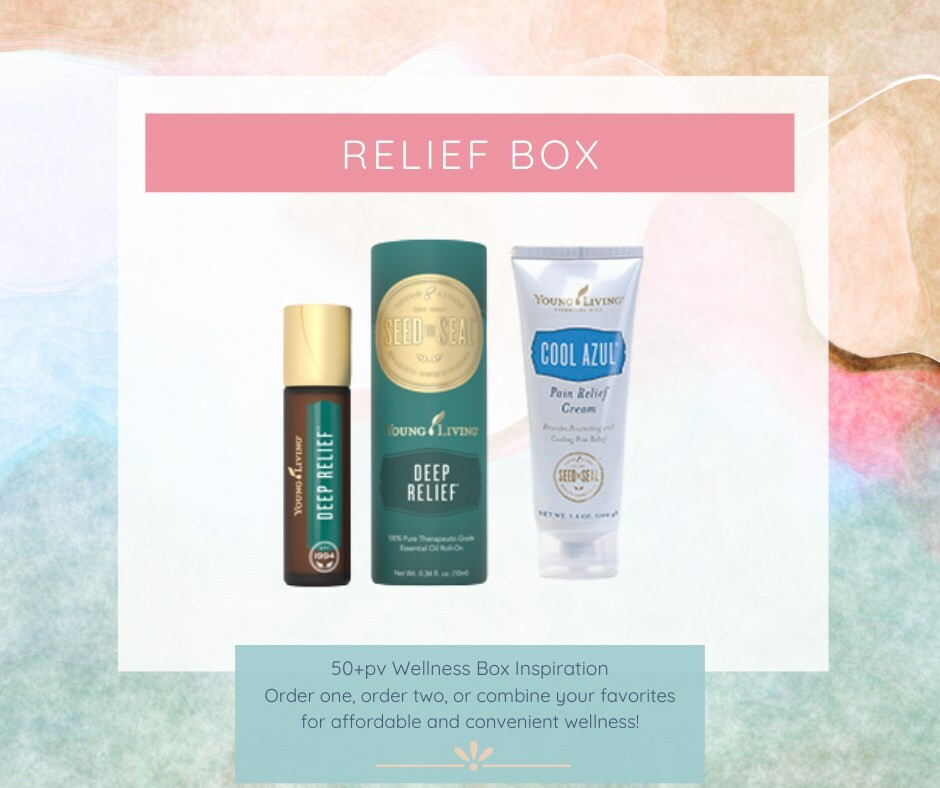 Relief Box
The Winter season can be hard on our joints and muscles. If your body is needing some TLC, consider this Relief Box to meet your needs. Deep Relief and Cool Azul Pain Cream are both fantastic for headaches, inflammation, and pain.
Deep Relief Roll-On | item #3534 | $28.50
Cool Azul Pain Cream | item #5759 | $45.75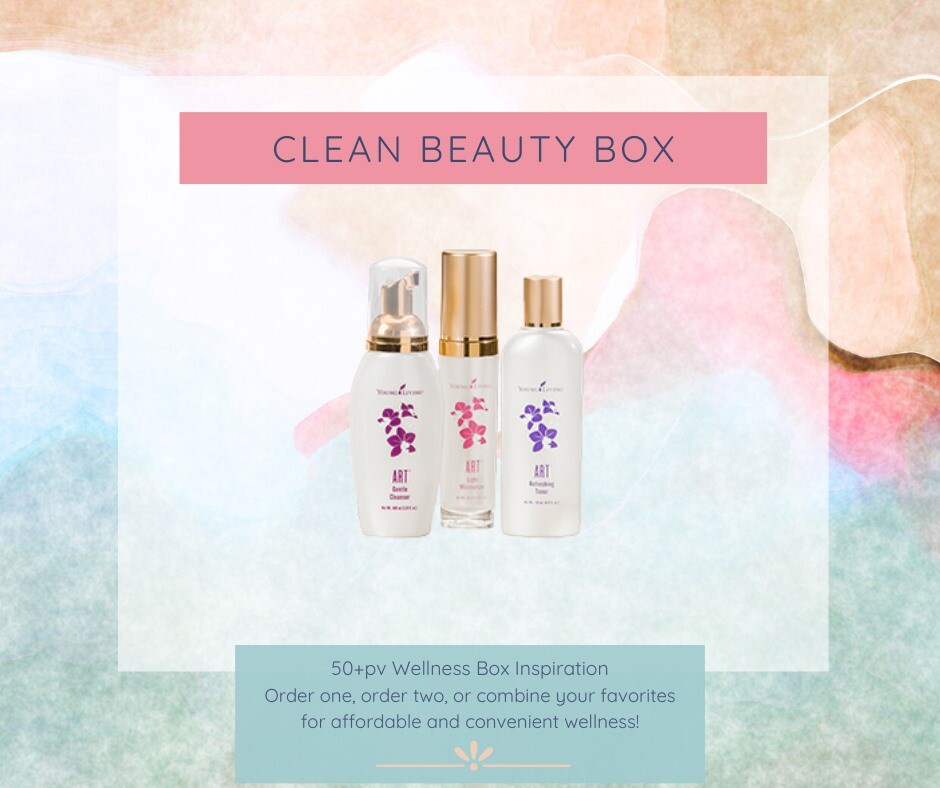 Clean Beauty Box
The ART Skin Care System is the one stop shop for glowing skin! This set comes with a cleanser, toner and moisturizer that works great for all skin types.
The ART Cleanser is gentle on sensitive skin but still effective at removing toxins, makeup, perspiration and dead skin from our pores. The ART Toner helps balance the pH of the skin. And the ART Light Moisturizer is perfect for morning or evening use.
ART Skin Care System | item #5363 | $117.50
*can be purchased individually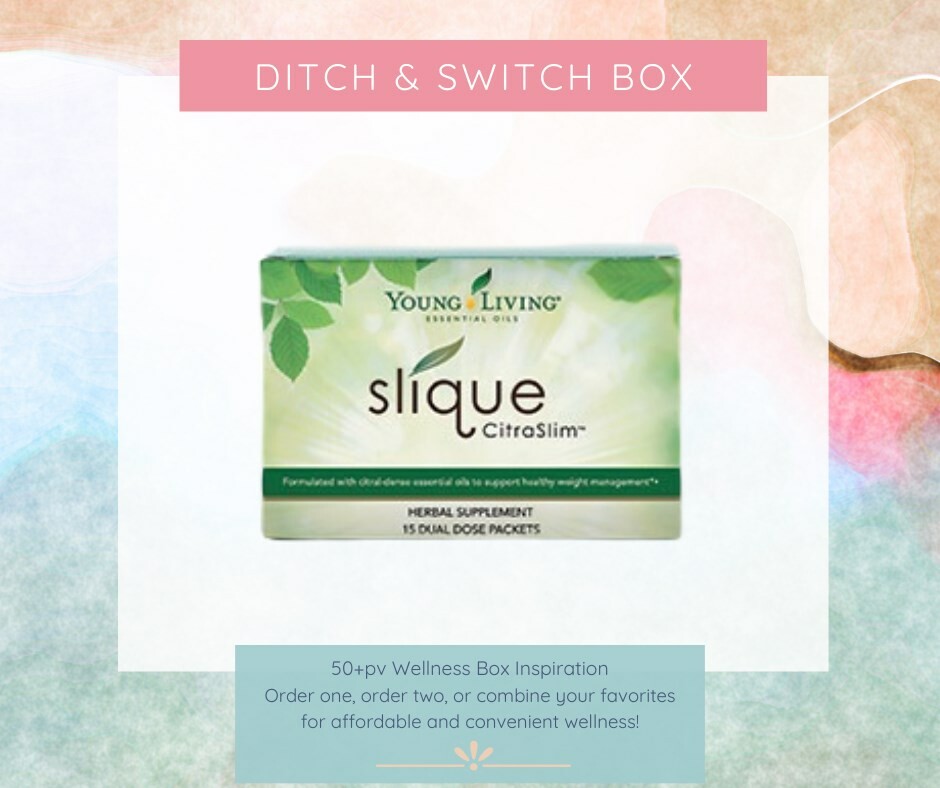 Ditch & Switch Box
Young Living's Slique has the perfect Ditch & Switch items for the New Year. Slique CitraSlim includes a proprietary citrus extract blend, which some studies suggest may help support the body in burning excess fat when used in conjunction with a healthy weight-management plan. This blend may also support the release of free fatty acids, which help break down fat.
Slique CitraSlim | item #3056 | $48.00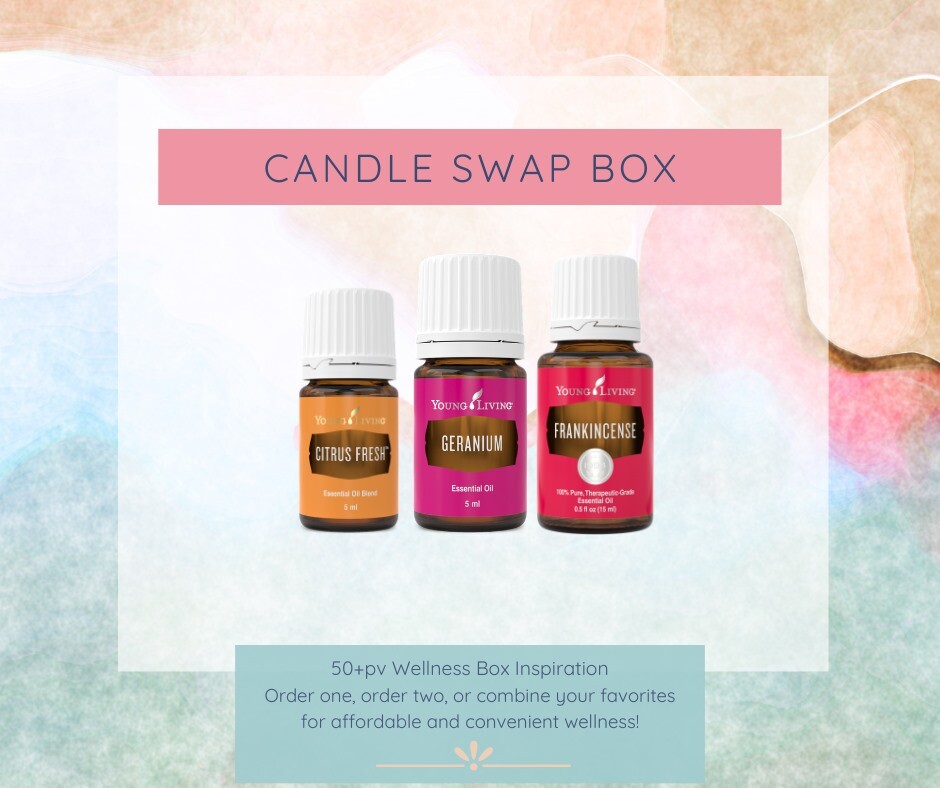 Candle Swap Box
Citrus Fresh, Geranium, and Frankincense are staples for those who love diffusing & creating ahhhhh! When you grab these 3 oils in your monthly wellness box, give this diffuser recipe a try: 4 drops Citrus Fresh, 1 drop Geranium, 1 drop Frankincense.
Citrus Fresh Essential Oil| item #3318 | $16.50
Geranium Essential Oil | item #3554 | $44.25
Frankincense Essential Oil | item #3548 | $78.50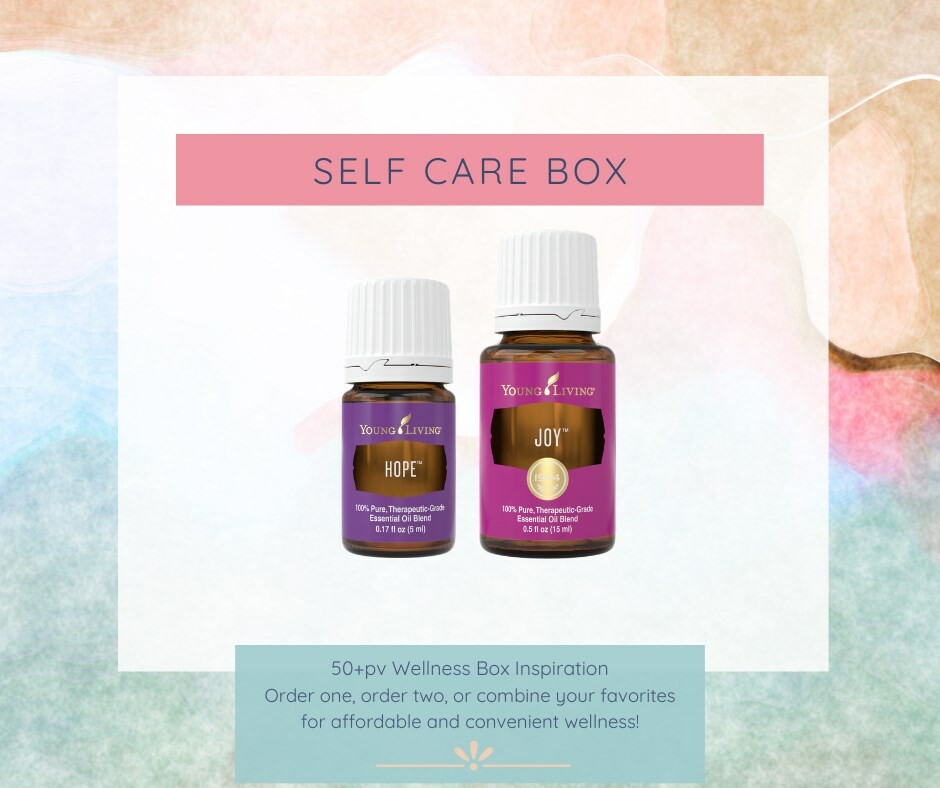 Self Care Box
Aromatherapy IS self care! Joy & Hope are two oils that resonate with many of us during this season and are so comforting, uplifting, and grounding.
Hope Essential Oil | item #3357 | $61.00
Joy Essential Oil | item #3372 | $44.75