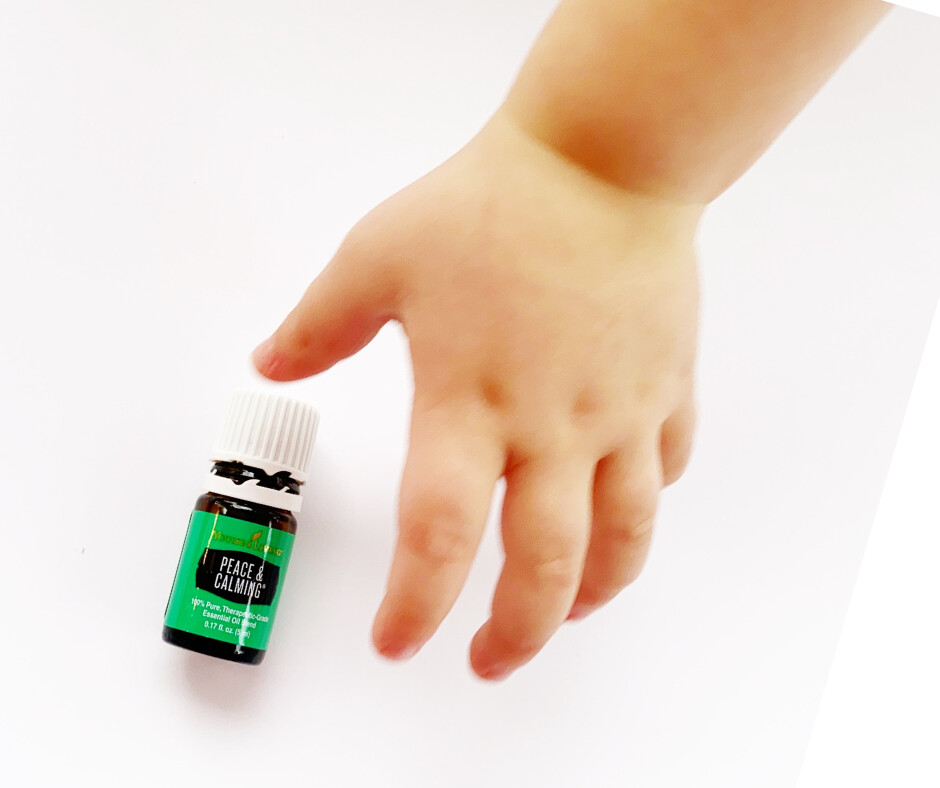 When you're new to using Young Living essential oils, start slow because these oils are far more potent and powerful than any other oils on the market!
We often think that more is better, but in this case, less is more.
Act like you have bottles of liquid gold and put away that heavy hand.
For example, if you read a diffuser recipe that calls for six drops of Peppermint oil, start with three until you know how oils work with your unique body.
In order to experience the mind expanding benefits of a essential oils, be sure to use them consistently. Come up with daily routines (yes, every single day!) for using your oils, and soon you'll see how much they support you. Trust us, you can't make up the results you will see, and consistency is key.
Let's talk some terminology…
Remember, like all things new, there's a learning curve here. So be kind to your brain as it absorbs this new info. It's very much like learning a new language!
This means when you put the oil on your skin, it feels like it's hot and may give a burning or tingling sensation. These oils are not literally "hot" but their reaction feels hot. So how do you use hot oils? You dilute them!
Examples of hot oils: cinnamon bark, clove, thyme, peppermint, oregano, lemongrass, and thieves.
PHOTOSENSITIVE
Keep out of the sun for 8 to 10 hours when using photosensitive oils on your sun-exposed skin, so you don't burn. OR, as we say it, put the oils where the sun doesn't shine if you want to use them during the day.
Think of these essential oils like vampires, ideally kept in the shade and best used on your skin at night. Apply them before bedtime and tomorrow you'll wake up refreshed and beautifully bright looking.
Examples of photosensitive oils: lemon, lime, grapefruit, orange, bergamot, tangerine, citrus fresh, stress away, peace and calming.
Here's a way to remember this one: carrier oils will CARRY the essential oil in it, like a vehicle taking the celebrity for a ride. Carrier oils are typically found in your kitchen, and Young Living makes their own, too, called V-6. It is a wonderful blend of these carrier oils: fractionated coconut oil, sesame seed oil, grapeseed oil, sweet almond oil, wheat germ oil, sunflower oil, and olive oil.
When we make ointments and creams, we typically use hard cold press coconut oil, shea butter, or coconut butter to carry the essential oils.
Examples of carrier oils: olive oil, coconut oil, avocado oil, grapeseed oil, jojoba oil.
Because essential oils are highly concentrated, blending them with a carrier oil helps to both dilute the essential oil and disperse it onto and into the skin. This is super important for use with babies and little ones!
Newborn – 6 months: 1 drop essential oil to 1 Tbs carrier oil
6 months – 2 years: Dilute 1:4
2 years – 6 years: Dilute 1:3
6 years – 12 years: Dilute 1:2
Young Living has a full line of 'pre-diluted' oils made for children. They are in the KIDSCENTS line.
You will soon discover making rollerballs of your favorite combinations make them portable and ready whether you have a bug bite, head tension, tummy aches, stress, etc.
This is a new way of life, and you will soon wonder how you ever did life without these oils.
That is exactly how we feel.
What if there was a easy button to start simplifying your life?

The Little Oilers Starter Kit
is a member favorite! It comes with an adorable
"Feather the Owl"
diffuser and 5 oils from the KidScents line. The diffuser doubles as a sound machine and a nightlight— perfect for kiddos! You will quickly fall in love the soft music, nature sounds, waves, and light changes on his belly.
The most common ways to use oils with children are aromatically and topically. Aromatically just means diffusing or inhaling from your palms or the bottle. When diffusing around children, I always recommend starting with just 1-2 drops of each oil and increasing from there.
Learning to use oils on children can sometimes be overwhelming, so never hesitate to reach out to me if you have questions—that's what I'm here for! But I also wanted to share one of my favorite resources for using oils on the little ones—a book called Gentle Babies by Debra Raybern. It has so many great tips and education for supporting your kiddos naturally!
Using oils topically means to apply them directly onto the skin. It is important to properly dilute oils as needed when applying topically on babies and children. This is the dilution guide recommended by Young Living when applying oils topically to babies and children.

My favorite thing about our Little Oilers Kit is that all of the oils come pre-diluted. So, when you're using the Little Oilers collection on children 2+ years old, you do not have to dilute further. Hello, easy button!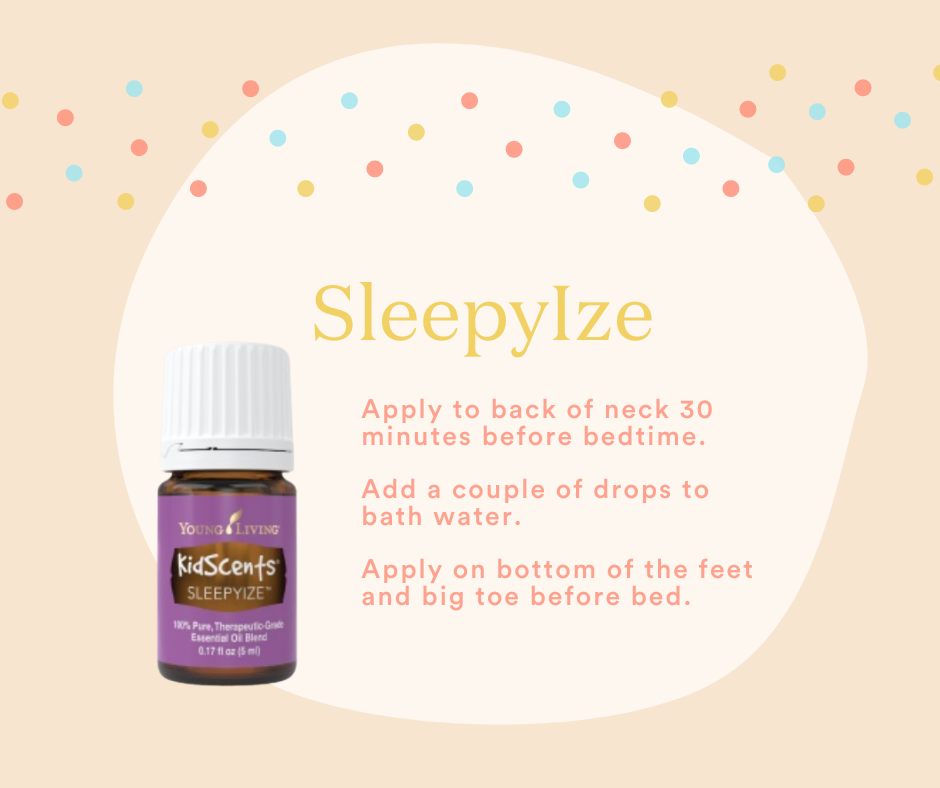 The first oil from your kit that I wanted to share about with you is
SleepyIze
.
This oil is one of the most loved oils in the Little Oilers Kit because when supporting a little person's body, one of the best things they can have is a good night's sleep.
This oil is a blend of some of the best calming and relaxing oils such as Lavender, Roman Chamomile, and Sacred Frankincense. The oils in this blend are perfect for winding down before a nap or bedtime and can also help with restlessness or big emotions. And even though this is considered a "kid's oil," many adults love to diffuse this blend in their room at night while they sleep too. (you will soon discover that everyone in the family are sharing these!)

This is a great oil to diffuse at night and let your kiddos touch the talons to turn on Feather. It will soon be a naptime/nighttime routine.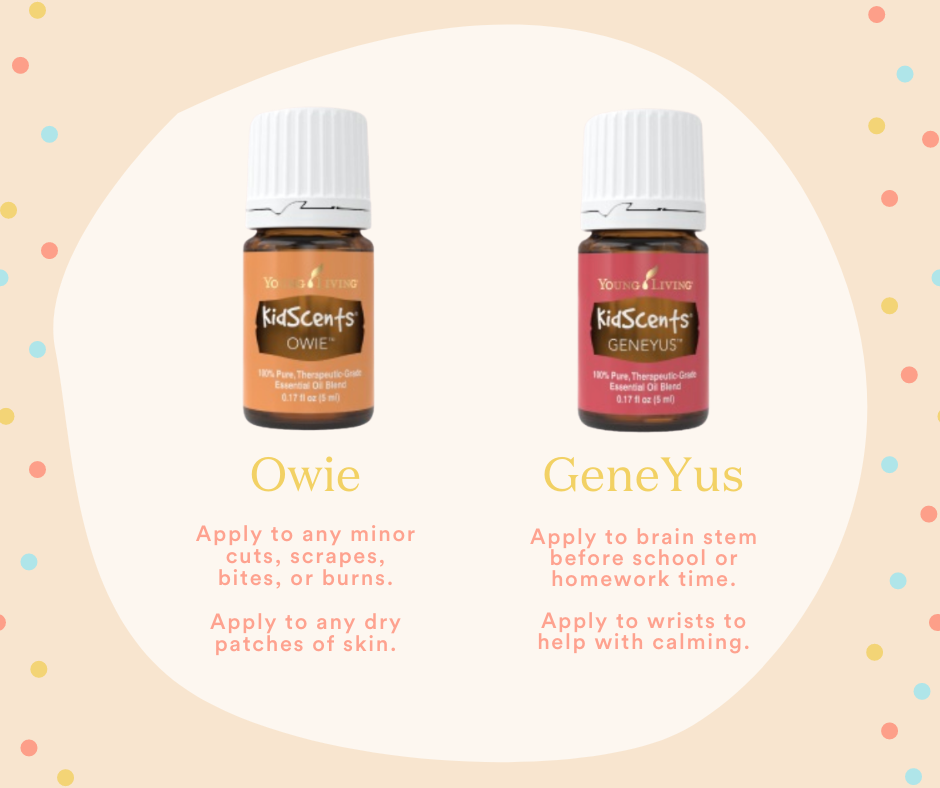 Owie
was formulated specifically for all of the boo boos that comes along with childhood. Most parents like to keep this one in the diaper bag or backpack so it is always on hand for whenever an accident happens! To use this oil, just apply one drop to any minor skin irritation, bump, cut, or bug bite!
GeneYus
oil is also known as "focus in a bottle"! This oil is a game changer for anyone that has trouble focusing on or completing a task! My favorite way to apply this oil is to place one drop on the back of the neck (over the brain stem) before heading to school. You can also apply on the wrists when you really need to concentrate or diffuse when doing homework!
S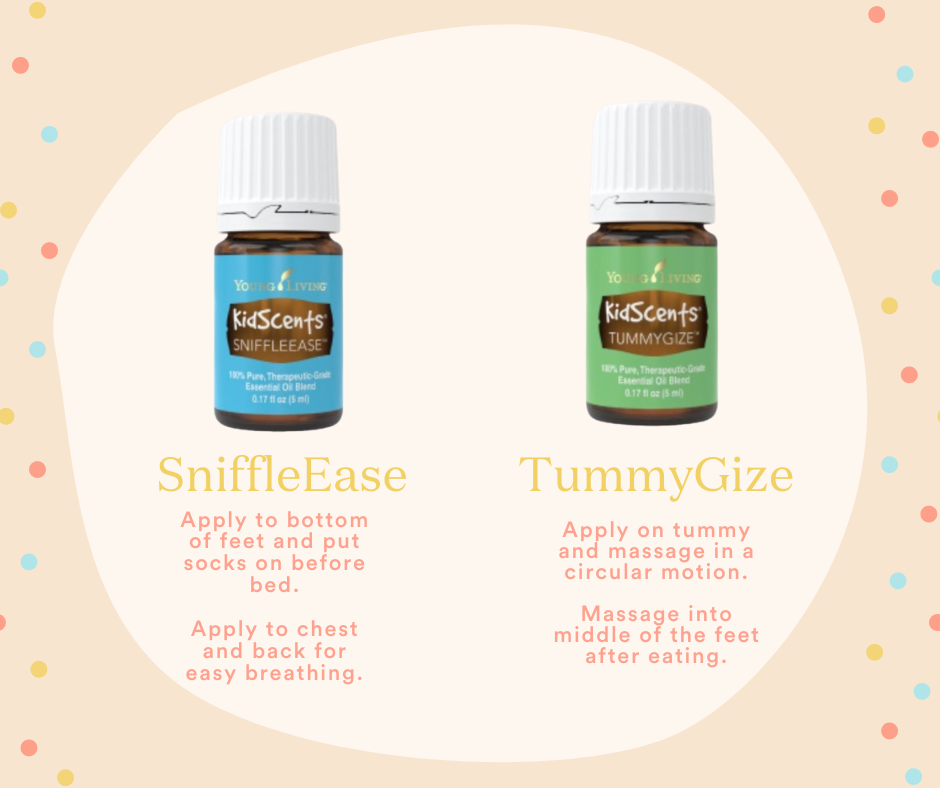 niffleEase
is a blend of oils that supports healthy breathing, including Eucalyptus, Marjoram, and Peppermint. This oil is great for keeping little lungs healthy and easing the sniffles as the seasons change. I would recommend taking one of the roller tops that comes in your kit and adding it to this oil for easier application. The easiest way to apply this one is to roll on the chest, back, under the nose, or feet of your little!
TummyGize
is also another member favorite for children and adults. It is perfect for keeping those grumbles away and settling even the tiniest of tummies. Pop one of the roller tops on this bottle and roll around the belly button when needed!
YOUNG LIVING MEMBER BENEFITS
Something to consider...
There are some amazing benefits beyond your 24% wholesale discount that come with the Little Oilers Kit. You gain access to education and our growing community.

Young Living also has an amazing subscription called Essential Rewards. Through Essential Rewards (or "ER", as I call it) you can create a monthly Wellness Box for yourself & mix n match products every month based on your household needs. It's a HUGE savings on the wellness & clean living products that you need and your monthly wellness subscription box gives you 10%-25% back in YL Cash.
Ready to get started?
click here
Then look for "other premium kits"
You will soon find this is one of the best decisions you ever made for your littles, and you :)