Check out some of my Spring favs...
Of course, your box will be totally customizable so YOU choose what YOU want. 😉 Lemon, Lavender and Peppermint are great for the "spring sniffles" and the Bloom Brightening Cleanser is perfect for getting that youthful glow. I've also included some "ditch and switch" items from our Thieves and home product lines that will be helpful for Spring cleaning, as well as some of my favorite oils outside of the starter kit.

Super B and Nitro are by far some of the most loved YL supplements and can really help with energy. Tranquil roll-on is great to keep on your nightstand and roll on your feet before bed for a deep sleep!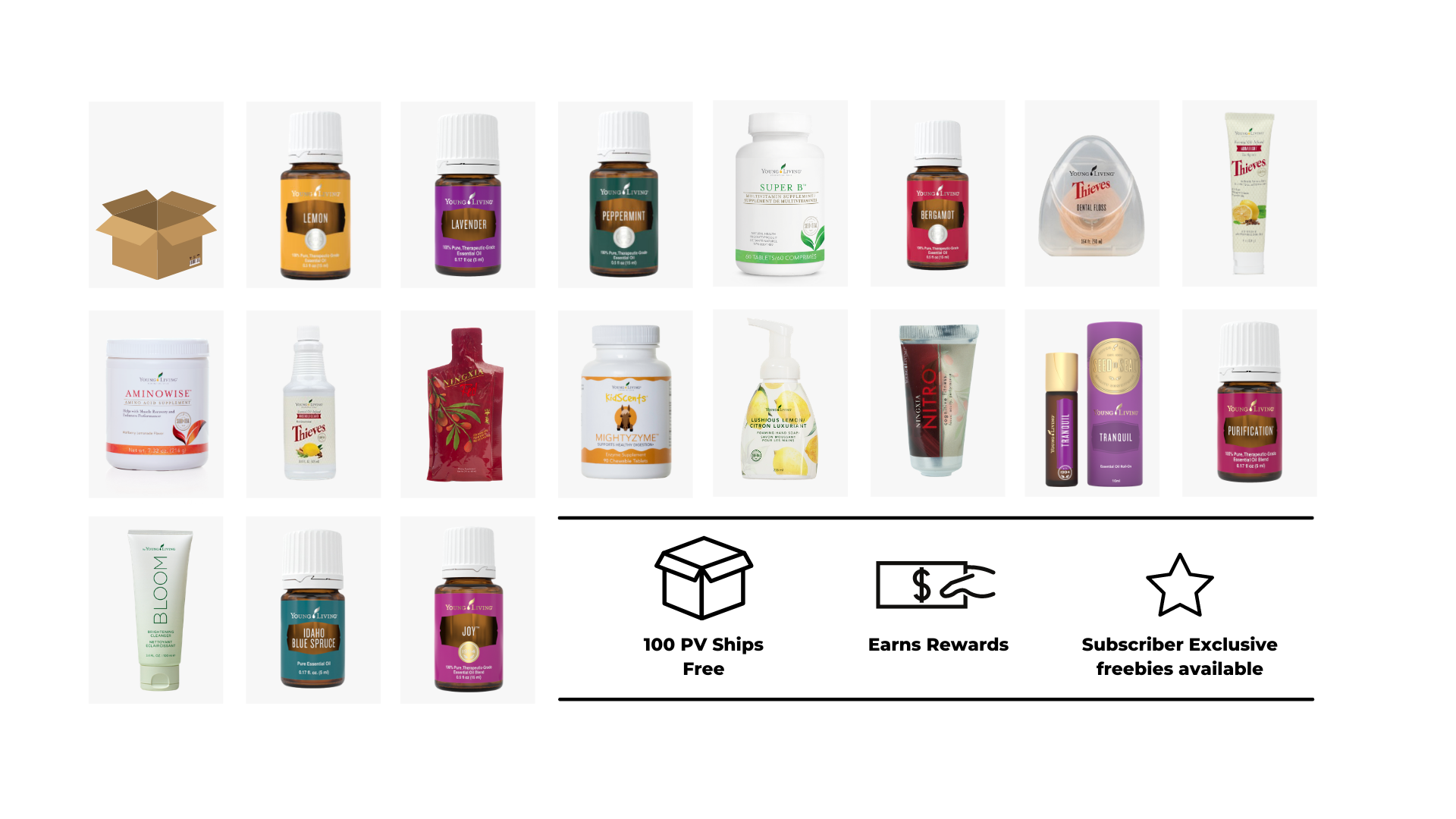 Oils:
Lemon Essential Oil | Item #3578 | $12.00
Lavender Essential Oil | Item #3575 | $25.25
Peppermint Essential Oil | Item #3614 | $23.00
Idaho Blue Spruce Essential Oil | Item #3093 | $30.75
Joy Essential Oil | Item #3372 | $44.75
Bergamot Essential Oil | Item #3503 | $28.75
Tranquil Roll-On | Item #3533 | $30.75
Purification Essential Oil | Item #3389 | $16.50
Supplements:
Aminowise | Item #20083 | $35.00
Ningxia Red 2 oz. Singles 30-ct | Item #3525 | $90.50
MightyZyme | Item #3259 | $41.25
Super B | Item #3240 | $21.00
Ningxia Nitro | Item #3064 | $41.25
Home & Body:
Thieves Cleaner | Item #3743 | $23.50
Bloom Brightening Cleanser | Item #30291 | $36.50
Lushious Lemon Foaming Hand Soap | Item #30948 | $14.75
Thieves Floss | Item #4463122 | $3.50
Thieves AromaBright Toothpaste | Item #3039 | $11.00