WHAT IS IT?
Most people, when they are introduced to essential oils, know about Thieves.
They hear it's powerful, they hear it's the oil that is going to support your immune system and overall wellness to its fullest. And it's true!
Thieves is a blend of clove, lemon, cinnamon bark, eucalyptus radiata, and rosemary essential oils. Gary Young formulated the blend after visiting France in search of his next Young Living blend. He came across the legend of the four 15th century thieves in France who used this combination of herbs and essential oils to rub all over themselves, and rob people from their possessions during a time where immune systems needed desperate support.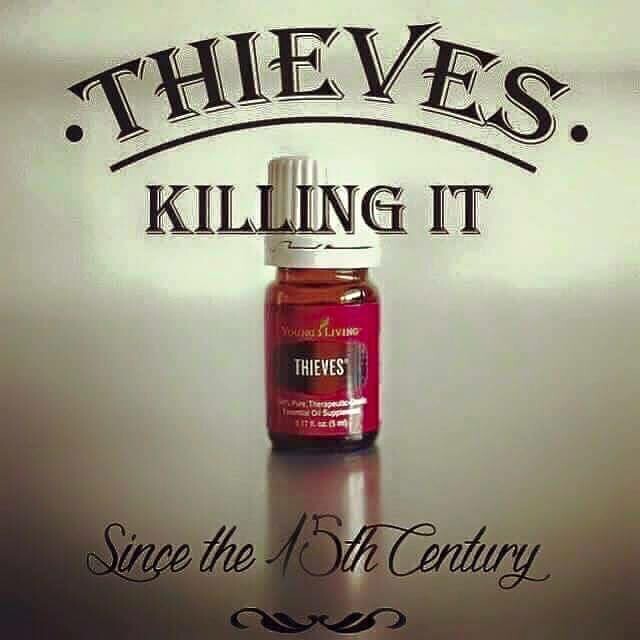 Google the story - you'd love it!
Because Thieves is so powerful, Young Living also has an entire Thieves line of products that we can use for our bodies or in our home. From Thieves laundry soap, to household cleaner, dish soap, fruit and veggie wash, toothpaste, mouthwash, hand purifier, foaming hand soap, dental floss, spray, wipes - they basically have it all, and all with the powerful Thieves blend inside!


WHAT'S IT GOOD FOR?
Thieves is amazing for immune health, but did you realize it's also key for healthy breathing? What about for excellent oral health? How about to flavor your apple cider? Or making your home smell like fall? That's right - Thieves can do that and so much more. Check out this list of things that Thieves can do:
-Supports the immune system
-Ideal to diffuse during winter months
-Supports the respiratory system
-Supports oral health
-Supports digestive health
-Supports healthy skin
-Cleanses
-The clove essential oil in this blend can act as a numbing agent
-Great to cook with and use in recipes
-Great to drink in a glass of water
-Can make your home feel like fall or Christmas
...and
the list goes on and on!
HOW DO I USE IT?
If you're new to Thieves essential oil, consider just putting it in your diffuser first. Protect your surroundings by diffusing in your office, your classroom, your home.
The version of Thieves that you'll receive in the new Premium Starter Kit is Thieves Vitality, the dietary supplement - so by all means, be taking this one internally! However you choose - get Thieves Vitality inside your body. Put drops of it in your Ningxia Red. Fill up drops of it in a vegetable capsule and take it internally. Drink it in your glass water bottle daily. Put a drop on your Thieves Toothpaste and brush your teeth with it. Whatever internal use you can think of, do it!

During winter months, we diffuse Thieves regularly in our home, as well as taking it internally or applying it to the bottom of our feet before bed at night.

PRECAUTION - Thieves is a hotter oil. If some gets on your skin and feels uncomfortable, or if it's too strong to bear in your mouth, feel free to dilute with a little bit of carrier oil like organic coconut oil. Also - only drink Thieves Vitality in glass or stainless steel containers, because it does contain citrus oils that will eat through petrochemicals in plastic or Styrofoam