Without question the most loved Young Living supplement in our house! We have both noticed an immense amount of support with Ningxia Red.
After you give it a try, we know you will agree.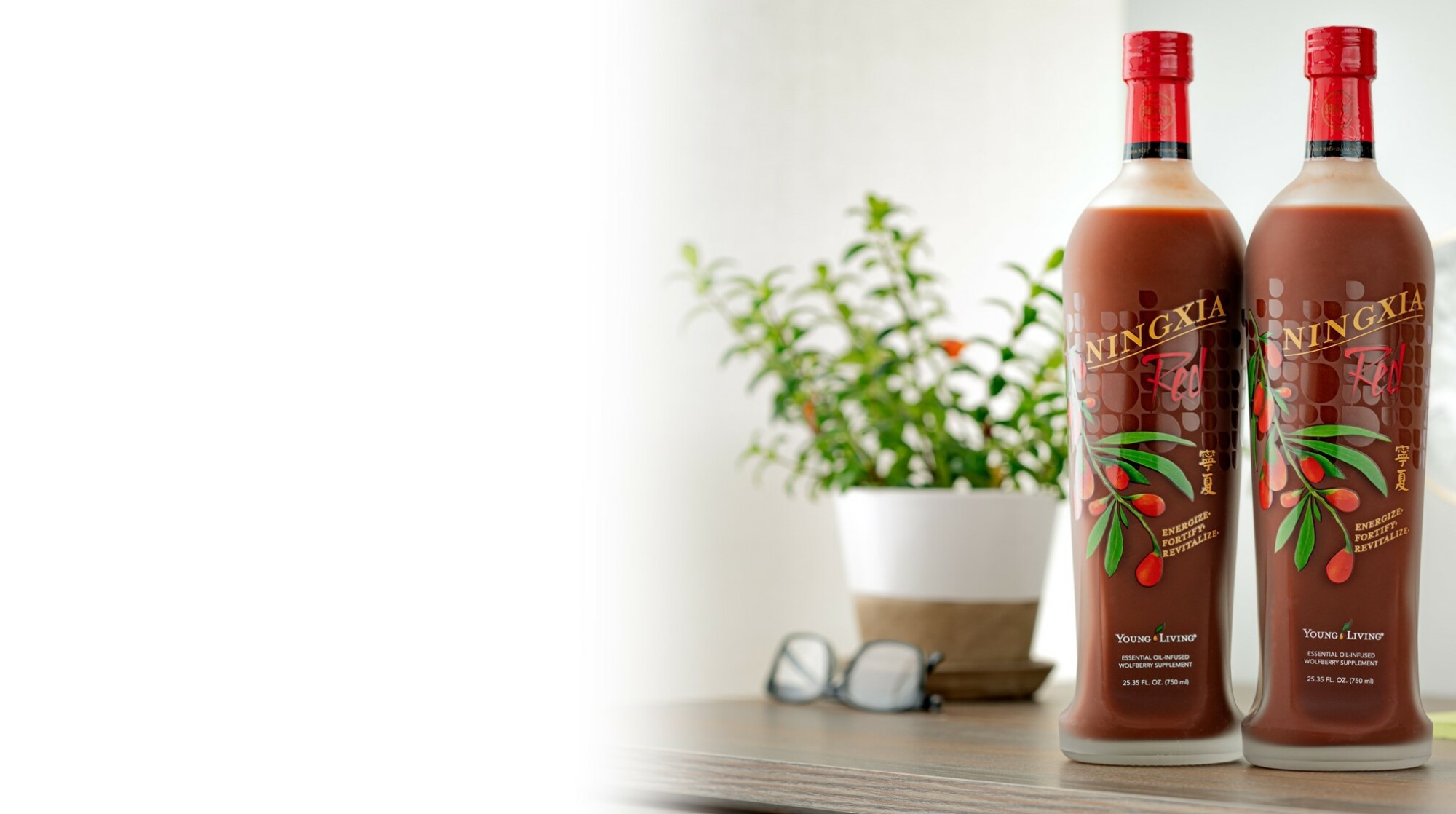 WHAT'S IT GOOD FOR?
Enjoy NingXia Red® daily to energize, fortify, and revitalize the body and support overall health and wellness, from head to toe.
-Supports normal eye health
-Supports digestive health
-Promotes a clear mind
-Helps healthy energy levels
-Supports normal cellular function
-Supports bladder health
-Supports oral health
-Supports a healthy sex drive
-Supports healthy skin and hair
-Fortifying and revitalizing
-Supports the immune system
-Supports overall health and wellness
...and
the list goes on and on!

HOW DO I USE IT?

This is an obvious one - DRINK IT! Drink at least 2 ounces of it every day! But here are some tips on how to best experience it when you do:
-Best when served chilled
-For an additional flavor boost, add a drop or two of your favorite Young Living essential oil supplement.
-To enjoy NingXia Red with an extra cognitive boost, combine 2 ounces with 1 tube of NingXia NITRO or with 1 can of Ningxia Zyng
-Freeze it to make Ningxia Red Popsicles for yourself or your kids
-Add 2 ounces mixes with water in your child's sippy cup for their daily dose
Ingredients:
Proprietary NingXia Red Blend 29g Ningxia Wolfberry Puree (Lycium barbarum), Blueberry Juice Concentrate (Vaccinium corymbosum), Plum Juice Concentrate (Prunus domestica), Cherry Juice Concentrate (Prunus avium), Aronia Juice Concentrate (Aronia melanocarpa), Pomegranate Juice Concentrate (Punica granatum) Proprietary Essential blend 50mg Grape (Vitis vinifera) seed extract, Orange EO (Citrus sinensis), Yuzu EO (Citrus junos), Lemon EO (Citrus limon), Tangerine EO (Citrus reticulata) Other ingredients: Tartaric acid, natural blueberry flavor, pure vanilla extract, malic acid, pectin, sodium benzoate/natural stevia extract.
Supplement Facts:
Serving Size:: 1 fl ounce (29.5 ml)
Servings per container:: About 25
Calories: 20 Total
Carbohydrates: 5g
Dietary Fiber: <1g
Sugars: 2g
Sodium: <5mg