WHAT IS IT?
Though it is probably the most popular essential oil on the market, many don't realize the superiority of Young Living's Lavender essential oil.
What sets Young Living apart from all other essential oil companies is their farms are open to the public. You can visit any of their farms around the world, and you can participate in planting, distilling, and harvesting not only Lavender, but the other crops that Young Living has growing all over the place!
You will never get to experience that seed to seal process with other companies or brands.
With Young Living, you know their Lavender and all other YL essential oils are completely untouched, rigorously tested, and genuinely pure.
Since Lavender essential oil is so popular in the essential oil world, there are many "Lavenders" out there to choose from. It is also the most adulterated of all essential oils, so it is very important to know what you're getting.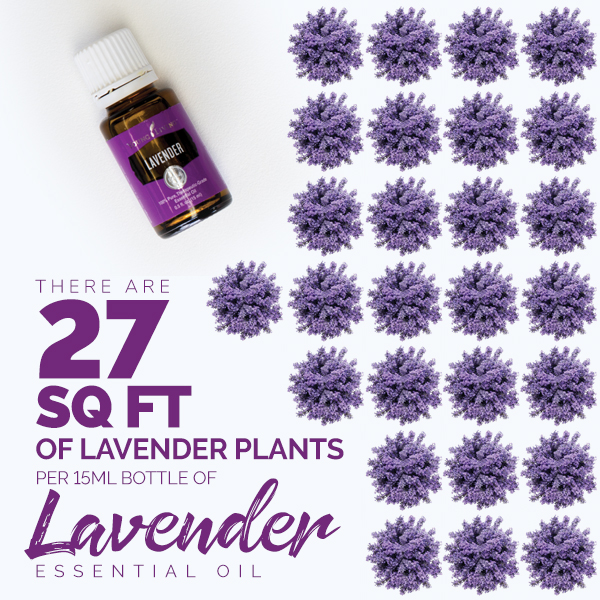 There is a BIG difference between a $6 bottle of Lavender and a $23 bottle of Lavender!
With Young Living, you can not only see what you're getting, you can be a
part of
what you're getting!
The information of where your YL Lavender comes from is not a secret under lock and key, like it is with other companies.

WHAT'S IT GOOD FOR?
Lavender is considered the "Swiss Army Knife" of all essential oils because of its vast and wide range of powerful uses to support the body.
Here's just a small taste of some of the things it can do for you:
-Assists the body when adapting to occasional stress
-Relaxes and calms for restful sleep
-Soothes and cleanses healthy skin
-Can support strong & healthy eyelashes by adding a drop to mascara
-Can support healthy hair growth
-Supports emotions
-Calming for babies and pets
-Soothes overactive muscles
-Supports breathing during seasonal changes
...and
the list can go on ….

HOW DO I USE IT?
In this new Premium Starter Kit, it comes with the regular bottle of Lavender. However, Young Living also has a Lavender Vitality essential oil, because it is also wonderful to use internally! (remember it is the same oil inside the bottle, just different labels)
You can apply it topically, inhale it, diffuse it, put it in a capsule, under your tongue, add to food or water!
With Lavender - it's really not rocket science when wondering where to apply it.
Just apply it where you need it!
It is a very gentle oil, great for even applying on the most sensitive skin. You can start by using this oil before bed. Apply to the bottoms of your feet, down your spine, on your wrists, neck, or under your nose. We add 4 -6 drops to our diffuser and turn it on about 30 minutes before we climb into bed.
You can bathe in Lavender after a long day.
Start with a bowl of plain, unscented Epsom salts, then add 10-15 drops of Lavender in the bowl of salt, then pour the bowl into the water. You want to mix the essential oil with epsom salts in order to disperse the oil evenly throughout the tub, otherwise, dropping the oil directly into the tub will just float the droplets on top of the water.
When we are needing any emotional support, or want to uplift our mind or mood, we diffuse or inhale directly from the bottle. Anything involving emotional health, inhaling the essential oil is a direct pathway to your brain and the seat of your emotions.

If you're new to Lavender, start by adding a drop or two to your palms, rub together, and inhale deeply 5-10 times. You will be amazed to see how this powerful essential oil can support your day!